Video Expert Reports
Video Expert Reports That Present Your Vehicle Defect Case
In addition to a written Expert Report, now your auto "defective design" case can be presented in a 20-to-30 minute video and/or DVD that illustrates and narrates the key points of the case... for mediation, settlement, in support of motions, and as exhibits for trial. Each Video Expert Report is produced entirely in-house and is narrated by Auto Safety Expert Byron Bloch. With key documents and crash tests from our extensive Auto Safety Archives , the video production includes: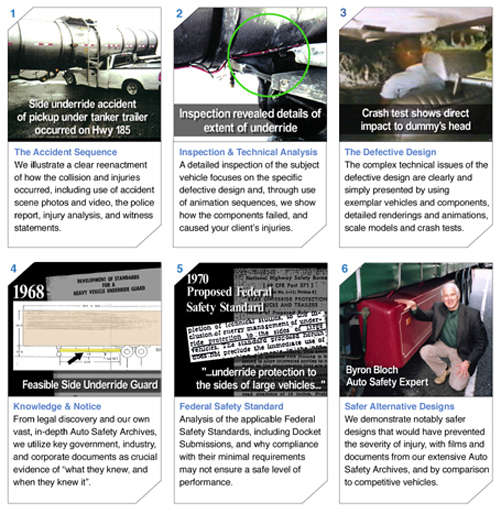 Video Production Capability... Skills, Archives, Creativity
Our in-house Video Production Unit utilizes the latest in digital editing technology. For each case-specific Video Expert Report , we also integrate the resources of our extensive Auto Safety Archives of documents, crash test films and videos, and other historic and industry materials. Technical points are illustrated with parts and sections from exemplar vehicles, and accurate scale models of vehicles, and detailed animations to help explain the defective design at issue, and the safer alternatives that would have made a difference.
Client Testimonials
"I would like to commend your work on the Video Expert Reports. I found them helpful on many different levels. They were a perfect overview of the case to educate me and my staff on where and how to begin to pour through the documents. They were also effective tools for presentation at the mediation in front of the clients and the mediator." - Attorney M.S. of Texas
"Worth every penny! Thank you for providing such a professionally edited and directed piece. We look forward to working with you in the future." - Attorney A.F. of Pennsylvania
"...you told a coherent, thoughtful story in the manner the judge and jury are used to seeing from professionals like CNN or similar organizations whose business is clear yet concise visual presentation... In complex cases like this one, there is so much testimony that the jury can easily become confused. The video provided something on which the judge and jury could focus - - a memorable, powerful, emotionally, and intellectually distinct capsule of the entire significant matters of the case." - Attorney L.S. of Alabama

A video sampler is also available to show you some brief examples. Please contact us to request your copy, and to discuss how a Video Expert Report can present and strengthen your case.