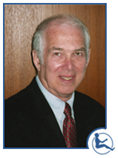 Byron Bloch, Auto Safety Expert

Auto Safety Design
8016 Lakenheath Way
Potomac, Maryland 20854
Office: 301.299.1800

"For over thirty years, I've fought for compassion and increased safety in the design of our vehicles... to eliminate the defective designs that cause needless injury. And if someone is severely injured or killed in a crash, I analyze their vehicle to determine what may be unsafe and defective, and then work toward bringing some measure of justice for that individual and their family. " --Byron Bloch
Byron Bloch, Auto Safety Expert
Byron Bloch has been a nationally-recognized and court-qualified expert in auto safety design and vehicle crashworthiness for over 30 years, and has consulted and testified in auto defect cases from coast to coast.
Our areas of expertise include: Fuel Tank - Fires, Truck Underride Hazards, Truck Conspicuity, Rollover - Roof Crush, Seat Backrest Collapse, Side Impact - Intrusion, Airbags That Kill or Injure, Side Windows - Ejection, Seatbelts - Slack & Automatics, Vehicle Mismatch, Trucks Without Backup Lights & Alarms, and more.
Auto Safety Defects You Shouldn't Overlook
When someone is severely injured or killed in an auto accident, there may be a relevant safety defect that caused the severity of injury. We present an overview of many of the safety defects that should not be overlooked... whether you are a concerned motorist, or a trial lawyer representing an injured plaintiff client, or an automaker who wants to improve the safety of the vehicles they manufacture.
Video Expert Reports
Learn about our unique "Video Expert Reports" that we produce specifically to illustrate and strengthen your auto defects case... from the accident and injuries, to the defective design at issue and the safer alternatives, to knowledge and notice to the industry and defendant automaker... with crash tests, drawings and animations, and key documents from our extensive Auto Safety Archives. Produced on video and DVD, our "Video Expert Reports" are extremely useful for mediation and settlement, in support of your motions, and as powerful exhibits for trial.