SIDE WINDOWS - EJECTION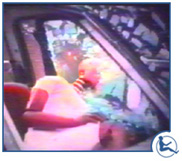 About 7,800 vehicle occupants are killed each year after being ejected through side windows of tempered glass. Primarily in rollover and side impact accidents, tempered glass may shatter into hundreds or thousands of small glass pebbles, providing an opening through which the occupant may be partially or completely ejected. An ejected occupant is three times more likely to be killed than if he or she had stayed inside the vehicle.
The SUV rollover propensity problem is further aggravated by weak roof structures that cause roof buckling and collapse, which loads down onto and shatters the tempered side window glass, thereby increasing the likelihood of the occupant's head or body being ejected through the window opening... and the driver's or passenger's head may be crushed between the pavement and the rolling vehicle.
In contrast, with a side window glass-plastic-glass laminate design, the glass itself may break, but the tough-skin strength of the plastic inner-layer will stretch and yield, and serve as a "safety net" to keep the occupant's head and body within the vehicle. This is similar to the safety merits of the laminated front windshield, constructed of two sheets of glass with a tough high-penetration-resistant (HPR) plastic inner layer. In addition to its safety benefits, laminated side window glass has additional merits, including cabin noise reduction, more efficient temperature control, and theft prevention.
The defect issue of side window glazing is often overlooked in both side impact and rollover cases, yet the severity of injuries may have been prevented if the occupant, whether belted or unbelted, had been kept safely inside the vehicle by a glass-plastic-glass side window. The use of laminated glass-plastic-glass for side windows would significantly reduce this toll, but the auto industry has been slow to adopt this feasible technology. Of note, GM and Ford had previously utilized laminated side window glazing in some of their SUV models in the 1980's thru 1991 era, but have since abandoned this safer glass. Though NHTSA has previously encouraged automakers to voluntarily adopt this safer glass-plastic-glass laminated technology, the government agency has been unwilling to mandate its requirement.
In the past five years, some automakers have begun adopting laminated side window glass - including in models from Volvo, Audi, Lincoln, Buick, and others. This meritorious safety technology should continue to expand and be utilized in many more vehicles.