BACKUP LIGHTS & ALARMS
Many workers are run over or crushed each year when large trucks and tractor-trailers back up without any warning. The defective design issues focus on the lack of any back-up lights or back-up alarms, and there is no valid reason why most large trucks and all tractor-trailers are not included... especially since these large vehicles have severe "blind spots" whereby the driver cannot see what's behind his large vehicle as he attempts to back up at a work site or loading dock.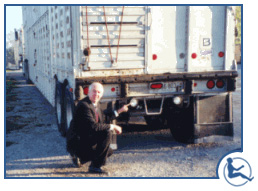 The Waters vs. Wilson Trailers trial in Lexington, Kentucky, illustrated this needless and tragic safety hazard. While attempting to help unload livestock at night, David Waters was unaware that the tractor-trailer was backing up, and it fatally crushed him against the loading dock. In the 1999 trial, Byron Bloch testified and demonstrated how the Wilson trailer was unsafe and defective in its lack of any back-up lights or back-up alarm.
At least 20 to 40 fatalities occur each year to workers walking behind the vehicle , an estimate derived from the Bureau of Labor Statistics, of the U.S. Department of Labor A Society of Automotive Engineers (SAE) Standard for Backup Lamps states that "Backup lamps are those which illuminate the road to the rear of the vehicle and provide a warning signal to pedestrians and other drivers when the vehicle is backing up or is about to back up." This long-time SAE Standard does not exclude tractor-trailer trucks, and also notes that the back-up lamps shall be energized whenever the vehicle's reverse gear is engaged.
Devices that sense objects around the sides and to the rear of a vehicle can also help reduce the hazards of "blind spots" when backing up or changing lanes. Such presently-available devices are useful for minivans, standard vans, sport utility vehicles (SUVs), trucks, trailers, buses, and motor homes. Improved mirrors and television monitors can also be utilized, with cameras strategically mounted at the rear and to the sides (and even forward) to show what the driver could not otherwise see... especially for larger vehicles.
Safety remedies of back-up lights and back-up alarms are simple, inexpensive, and available. The availability of distance-to-object detectors and video monitors also enhances their consideration to improve the safety of vehicles from minivans to SUVs to large trucks and trailers.