DOOR LATCH - EJECTION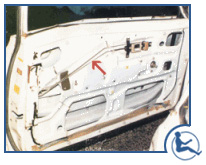 Too often the struck car's doors "pop open" in side impact and front-angular impacts or in rollovers, and the driver or passengers are ejected out onto the road. Fatalities are three times more likely to occur to an occupant who is ejected.

Federal Motor Vehicle Safety Standard 206 requires that the door latch stay closed when a front-to-rear load of 2,500 pounds is slowly applied, or when an outward-to-inward load is slowly applied, or when a 30g acceleration load is applied. But there is no crash test requirement, nor any use of test dummies that can slam against the door, to more realistically simulate what actually happens in real-world accidents.

The linkage between the inside door handle and the latch is called the remote rod or relay rod, and is often a coat-hanger type of thin wire or narrow metal strap. When the door flexes during a crash, or the occupant's body slams against the inside face of the door, that remote rod flexes or bends... thereby actuating the latch and opening the door at the precise moment it needs to stay shut.

Among the defects of a door latch system: a tension-type linkage is susceptible to this door-opening problem, which can generally be corrected with an alternative compression-type linkage that includes a bell-crank mechanism to reverse the force application so that flexing the remote rod will not actuate the door latch.

Inadequate door structures may fail to help protect the remote rod from flexing and bending. Inner door beams, and their interconnection via strong door hinges and door latches to reinforced vehicle body pillars, are also critical factors to help ensure that the doors stay safely closed during collisions and rollovers. Rather than just a singular latch mechanism to hold the door shut, safer designs include additional devices so there are multiple retention points to hold the door more securely to the vehicle body. Safer designs include more overlap of the door to its surrounding frame, including the bottom sill at the floorpan.