TRUCK CONSPICUITY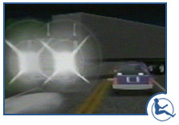 Conspicuity refers to the factors of (1) perceiving that something is on the dark road ahead, (2) identifying the object as a large truck, (3) appreciating the truck's position and slower speed as a danger, and (4) stimulating you to take evasive maneuvers to avoid the imminent collision.
Many car-into-truck accidents occur in the dark of night, when a large tractor-trailer rig is pulling onto a road or backing into a driveway. Often, the tractor's headlights are aimed toward the oncoming driver and they create a "wall of glare" that conceals the fact that the trailer behind it is stretched dangerously across the dark road ahead.
These photos illustrate the danger of a trailer stretched across the lane ahead. Note that the trailer across the road is virtually invisible in the left-hand photo... versus the dramatic difference in the right-hand photo that shows how reflective tape makes the trailer notably more conspicuous as a danger across the road ahead.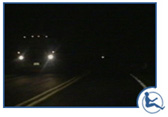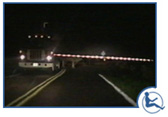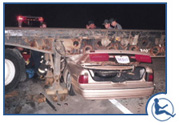 Since the 1960's, the trucking industry had known about the safety benefits of reflective tape, but generally ignored the conspicuity issue. Studies in the 1970's showed that truck underride crashes at night were often "surprise" events to the oncoming driver, who didn't perceive the truck until it was too late to avoid the crash, and they noted that reflective tape could help solve this problem.

In the mid-1990's, both NHTSA and FHWA finally issued rules to require all new trailers built after December 1993 to utilize reflective tape, and for all pre-1994 trailers to phase-in the retrofit use of reflective tape. If any large truck or trailer does not utilize reflective tape, it is unsafe and defective.

"Red dot confusion" is when the small red tail lights in the dark do not readily convey the perception that there's a slower-moving truck ahead. Or if a long trailer is stretched across the road ahead, the one or two small amber lights on the side of the trailer might not alert an oncoming driver of the imminent danger. Again, the use of reflective tape on the sides and rear of large trucks and trailers can help resolve this problem.